Fires are more frequent, more damaging, and more terrifying – a symptom of the new age that I call the Pyrocene
Steve Pyne is an emeritus professor at Arizona State University, and the author of Burning Bush: A Fire History of Australia and most recently the second edition of Fire: A Brief History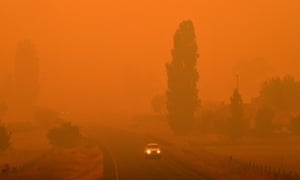 Australia is a fire continent. Imagine California on the scale of the 48 contiguous states, but drier, more routinely kindled and with winds that can transform large swathes of land into a veritable fire flume. From time to time, its simmering flames boil over into seeming tsunamis of fire.
And Australia has a culture to match. It has institutions to study, fight and light fire. It has a literature of fire, a folklore of fire and a fire art that is continuous from Indigenous bark paintings to modernist musings. It has special bushfire collections at its museums. It has a fire politics: on three occasions conflagrations have sparked royal commissions, and from 2009 to 2017, 51 official inquiries.
The worst fires have acquired names and become historical milestones, such as Red Tuesday (1898), Ash Wednesday (1983), Black Christmas (2001), Black Saturday (2009).
Now they are joined by the as-yet unnamed megafires of 2019-20. Call them the Forever fires, for they seem inextinguishable, burning with implacable insistence and smoke palls that extend their reach far beyond the flames' grasp.
Yes, Australia and bushfire are old acquaintances. But the past 20 years feel different. The bad fires are more frequent, more eruptive and more damaging. The Black Saturday fires, which killed 173 people, struck with the cultural force of a terrorist attack, and seemed to call into question the very premises of a "first world" society on a land capable of such fury. The Forever bushfires deepen that query.