Joëlle Gergis: As a climate scientist I am wondering if the Earth system has now breached a tipping point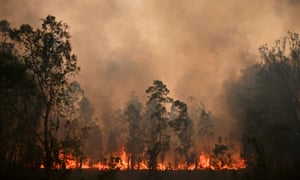 I had goosebumps watching surreal footage of the mass evacuation of people stranded on the south-east Australian coast.
Once again, catastrophic bushfire conditions are bearing down on communities during increasingly horrific summers in Australia. It has been an unprecedented continuation of the horrendous bushfires that started as early as spring in south-east Queensland and northern New South Wales.
As I write this, the Australian navy is evacuating more than 800 people from the bushfire-ravaged town of Mallacoota in eastern Victoria. Holiday makers are being forced to abandon their cars, complete with kids' bikes strapped to the roof racks, ice melting in Eskies. People hoping for a carefree break over the new year are instead faced with the extraordinary position of having to flee for their lives.
There are now tens of thousands of people in coastal NSW and Victoria stranded in towns where the highways are closed, supermarkets are running out of food, and queues for petrol snake down the streets of devastated towns. The scenes experienced by those caught up in the ordeal are being described as apocalyptic – rightly so.
Meanwhile, the locals face the infinitely more serious situation of returning to find their homes completely incinerated. Cars melted, pets killed, beloved landscapes destroyed. A lifetime of memories razed to the ground. As Australia's climate continues to warm, the most intimate places of human safety – our very homes – are being threatened in an increasingly dangerous world.