The pattern of bushfires is part of our lives. But these fires are not going out

Wed 1 Jan 2020 04.02 GMT Last modified on Wed 1 Jan 2020 10.04 GMT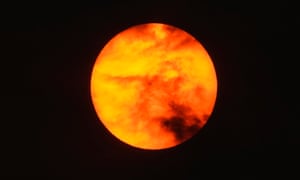 We know the sight by heart: corrugated iron on a low pile of ash with a chimney left standing. Another house gone. And the pattern of bushfires is part of our lives too. They burn until a cold wind blows up the coast when it buckets down dousing the flames.
But that's not the pattern now. The downpour has been postponed officially until late January. Things are looking up: it was April. Either way the experts are saying the weeks ahead are looking dry, tinder dry.
As that news sank in this summer an unfamiliar emotion took hold in Australia: not fear so much as dread. These fires are not going out.
We know the language of fires. All our lives we've waited to hear a blaze is "under control". Sweet words. But these days they come with a caveat: only for a few days until the wind shifts and the fire jumps the lines.
And the rain never comes.