I am a climate scientist on holiday in the Blue Mountains, watching climate change in action
Wed 1 Jan 2020 19.00 GMT Last modified on Wed 1 Jan 2020 23.40 GMT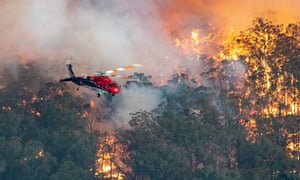 'In Australia, beds are burning. So are entire towns, irreplaceable forests and endangered and precious animal species such as the koala.' Photograph: State Government Of Victoria Handout/EPA
After years studying the climate, my work has brought me to Sydney where I'm studying the linkages between climate change and extreme weather events.
Prior to beginning my sabbatical stay in Sydney, I took the opportunity this holiday season to vacation in Australia with my family. We went to see the Great Barrier Reef – one of the great wonders of this planet – while we still can. Subject to the twin assaults of warming-caused bleaching and ocean acidification, it will be gone in a matter of decades in the absence of a dramatic reduction in global carbon emissions.
We also travelled to the Blue Mountains, another of Australia's natural wonders, known for its lush temperate rainforests, majestic cliffs and rock formations and panoramic vistas that challenge any the world has to offer. It too is now threatened by climate change.