Bureau of Meteorology data shows average temperature record across the country beat previous high of 2013
Thu 2 Jan 2020 01.17 GMT Last modified on Thu 2 Jan 2020 01.45 GMT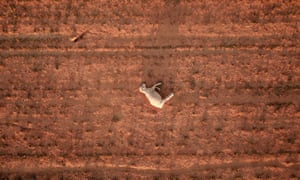 The year 2019 was the hottest on record for Australia with the temperature reaching 1.52C above the long-term average, data from the Bureau of Meteorology confirms.
The year that delivered crippling drought, heatwaves, temperature records and devastating bushfires was 0.19C hotter than 2013, the previous record holder.
Climate scientists told Guardian Australia that climate change pushed what would have been a hot year into record territory, driving heat extremes and the risk of deadly bushfires.
The Bureau of Meteorology data shows the average temperature across the country was 1.52C above the long-term average taken between 1961 and 1990. The second hottest year was 2013, followed by 2005, 2018 and 2017.